Aluminum Mobile Workstation TV Cart:AVG1800-60-2A
The combination of G200 AV cabinet and AVT1800-60-2A formed our NB AVG1800-60-2A Mobile Work-Station Product. The lockable integratec double desks AV cabinet designed for keeping your interactive peripherals and accessaries safe and neat. AVG1800-60-2A mobile workstation as name given, is used as moving instrument and it is great for presentation, facilitates exhibition and show and advertisment at sites. Designed in modular construction, it is easy to install and set up and disassemble for easy transportation. Furthermore, AV cabinet come with numerous of vent holes to cool equipments for long hours usage. AV cabinet come in powder coat black only with 2 steel locked blades behind attached onto 2 main poles.
AVG1800-60-2A packed in 2 separate products, the cart and the AV cabinet kit allowed you to add on later to your operational mobile TV cart and become mobile workstation TV cart.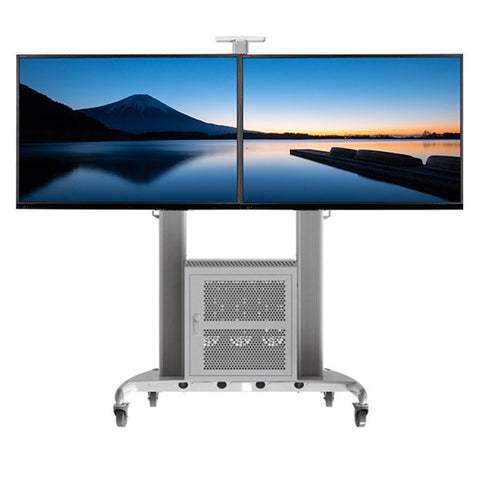 * Designed in modular form allow quick and hrassment-free attached and dettached of AV cabinet * VESA standard from 200x200 to 600x600. Fits most flat TV in the current market * AV cabinet designed with lock and numerous vent holes for safe and cooling of electronics equipments for long hours used * 4X smooth rolling casters for effortless positioning as mobile workstation TV cart * Smooth silver anodized column and base or powder coat black with adjustable TV height. * Carry maximum load 300lbs(136.4kg) and 2X flat panel TV (40" to 60"), strong and rigid * Integrated cable management through routing cables holes at the back of the cabinet * Flexible and installer-friendly. Easy and convenience. Perfect space saver and mobility * G200 AV cabinet comes in black powder coated only .
Dual Screen AVG1800-60-2A ■ For 40"-60" flat panel workstation single tray ■ Weight capacity : 300lbs(136.4kg) ■ Tilt angle : +1.5° ■ VESA compliance : 200x200 mm, 600x600 mm ■ TV Height adjustment: 15.7" ~67.8" (400mm ~ 1723mm ). ■ Color: Powder coat black and white. AV cabinet only in powder coat black
X