This popular P6 mount fits nearly all screens from 40-70" and supports models up to 100 lbs. Our low profile design allows a TV to rest as little as 2.1" from the wall, and extend up to 19.5". The P6 mount is truly full motion, allowing a wide range of motion that is unprecedented in quality and pricing. The dual arms design greatly increases strength and gives additional functionality such as: lateral placement and tilt, swivel motion of 100-140 degrees, and vertical tilt between -5 and +8 degrees. 
From the integrated cable management and ease of installation to the high-quality powder coating finish, we are confident you will be thoroughly impressed with this product.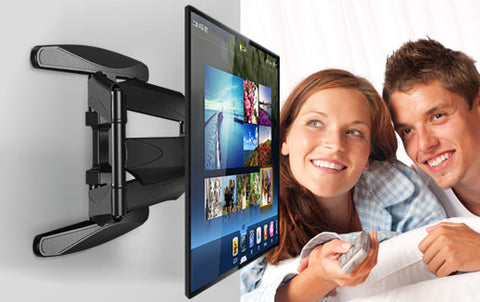 * The wall plate cover and cable hidden system of tv mount looked more luxury and nice, also made the TV cable behind your TV neatly. * With this full-motion tv mount, you can be easy to fix, tilt, extend, fold and rotate your TV and any viewing angle whatever you wanted. * Advance technologies design make viewing angle easy and convenient. * Our standard Accessories enable you to extend free VESA tv mounting distance from 200*200mm to 600*400mm. * The arm can extend to 496mm maximum.
■ Flat panel full-motion tv mount ■ Fits most 40"-70" flat panel display ■ VESA compliance : 200*200, 400*200, 400*400, 600*400mm. ■ Tilt: +8°~-5° ■ Load capacity :100lbs(45.5kg) ■ Material : SPCC, seamless steel tube and plastic. ■ Surface treatment: Powder painting coating finished. ■ Color: Black
X