North Bayou Height Adjustable Gas Struct Dual Monitor Desk Stand H180
① UNIVERSAL: Fits LCD, LED flat-screen TV or monitors from 22'' to 32'' in size with the load from 4.4 lbs up to 33 lbs for each arm, VESA is compatible with both 75*75 mm and 100*100 mm.

② FULLY ADJUSTABLE: The durable gas spring system ensure easy positioning of your monitor in any desirable position; Personalize your workstation any way you want; Support C-clamp or Grommet installation; Heavy-duty construction and super quality materials keep your arm mount stable- This is the sturdiest desk mount on the market.

③ FULL MOTION MOUNT: A Wide range of movements, The monitor can be rotated and tilted effortlessly in any direction, Tilt Angel from-30° to +85° with a combined 360° landscape rotation, Upright range is 12.6"(320 mm) with swivel angel ±90°.

④ ERGONOMICS: Improve your overall well-being by creating the most comfortable viewing angle for work or gaming- Enjoy the freedom to adjust your monitor height and angle: Your spine, neck, and shoulder will be thankful.

⑤ EASY INSTALLATION: Comes with detailed instructions and all needed hardware, the monitor stand is very easy to install within ten mins by one person, Hidden cable management keeps your desktop neat and organized.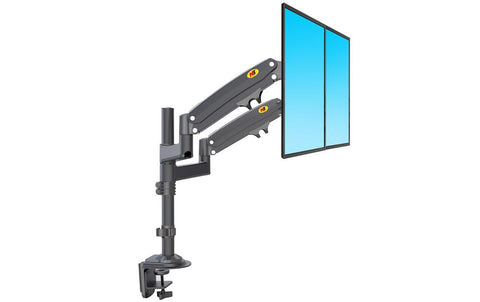 X