★New★ FC24-2A Dual Screen Desktop Sit-Stand Workstation
Fits screen size 19"-24"
FC24-2A dual screen desktop mount is a sit-stand workstation,another perfect /ideal accessory enhance and improve your quality of work and life and avoids sedentary for long period of time. With the aid of gas-strut, enable you to interact with monitors by swinging them left, right, lift up and down with a full range of motion provide unsurpassed ergonomic comfort. 
The new sleek and elegant look post design, combined with dual hinge bow, tilt angles from +8 to-53° works with 19" to 24" monitors offered best vision during your work.
Durable polished aluminum construction create a stable and fully adjustable side-by-side configuration that lifts both monitors up to where you feel comfortable most at work.
FC24-2A can be installed either at desk edge opposite to you or grommet on desk area. Carrying total maximum weight between 6.6 to 19.8 lbs (3 to 9 kg) with upright traveling distance up to 18.9" (480 mm). Comes with 180 degrees broad swivel angles pivot joint designed facilitates the showing and sharing of information with your nearby colleagues either in landscape position mode or portrait mode. Extension/retraction motion and integrated with broad swivel angles allow you to push arm out of the way when you need your desk surface and neatly clean space.
FC24-2A sit-stand dual screen workstation is suitable and ideally for constraint space and corners at home or offices. Modular design and neat cable management makes installation simple, easy and in perfection.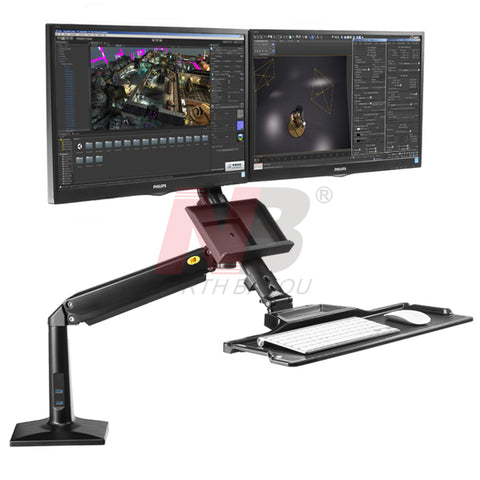 X