North Bayou Gas Strut Desktop Mount-F100A *New version*
Flexi full motion desk mounts for screens and monitors 17~27 inches, min 4.4 up to 14.3 lbs.Aluminium alloy material.
VESA compliant pattern: 75x75mm and 100x100 mm.
Free & smooth self-adjust dynamics floating upright positions range up to 7.8inches(200mm); Product built in durable gas-strut cylinder.Added conical joint between arms provides smooth and stable operation.
360 degree roil to orient screen horizontally or vertically. Gravity spring pivot joint enable tilt your screen and pivot from +35~-50. Lower and middle pivot joints provide level swivel range up to 180'+
Internal cable management allows cables and wires to be rounted inside the plastic cover for clean, clutter-free look. Built in USB&Audio inferface features at base for convenience&harrasment free connection.
F100 desktop flexi- monitor desktop mount is built-in durable Gas-strut or gas spring cylinder to enable to move your screen any directions and height at your wish. Allow you to experiencing the best of ecological interface design for the best viewing position. Added the gravity spring pivot joint design offered effortless titling position to eliminate gray viewing angle.

F100 desktop mount can be installed at the table edge or grommet installation anywhere of your worktable. It is a perfect office accessory that enable to swivel horizontally 180°+ for sharing infomation with your nearby colleagues or rotate 90° for showing upside down images. F100 monitor arm is constructed in aluminum alloy material with smooth shinning chromed appearance. Nice looking integrated cable management designed provides clean and clutter-free look.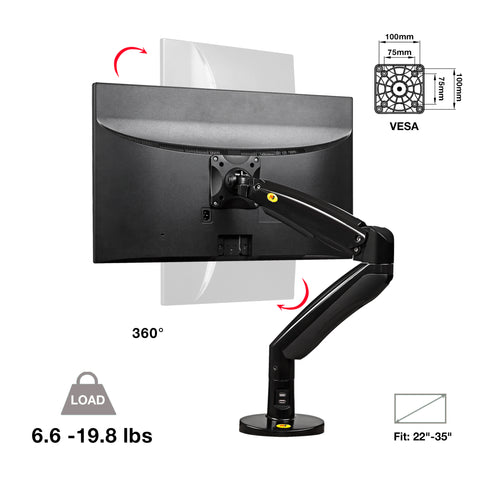 * Full motions flexibility with all directional effortless adjustment without tools used * Built in double USB interface features at base for convenience & harassment free connection * Durable gas-strut cylinder and conical joints constructed for smooth and stable operation * Strong die cast aluminum alloy construction with chrome shinning finished appearance give you best aesthetics look * Integrated cable management conceals inside provide clean ,neat and clutter-free appearance * Compact and retractable design increase your work space
F100—Gas-strut Desktop FlexiMount ■ Fits most 17" to 27" displays ■ Support load from 4.4 to 14.3 lbs (2-6.5 kg). ■ VESA compliant 75x75, 100x100 mm ■ Upright lift distance 7.8 " (200mm) ■ Rotation 360° ■ Swivel 180°+ ■ Tilt angle +35° to -50° ■ Product produced only in chrome shinning finished for this model.
X