North Bayou Gas Strut Monitor Mount NB F120
Flexi full motion desk mount for screens and monitors 17~27 inches, min 5.5 up to 15.4lbs. Aluminium alloy material.
VESA compliant pattern: 75x75mm and 100x100 mm;Upright lift distance 6.1" (155mm);Rotation 360°;Swivel 180°+;
Durable gas-strut cylinder and conical joints constructed for smooth and stable operation.
Integrated cable management conceals inside provides clean neat and clutter-free appearance.
Easy wall installation, comes with detailed instructions and all needed hardware
F120 gas spring flexi-wall led mount is a wall installation full motion lcd display mount. It is designed and built with ergonomic interface concept to enhance your viewing and gaming experiences. Built in with durable Gas-strut cylinder to enable to move screen any directions and height at your wish. With added spring pivot joint design offered effortless tilting position to eliminate gray viewing angle and plus wide range of swivel position covered up to 180°. This full motion wall tv mount covered almost every viewing point in your room where-ever your are for entertainment, video conference, gaming or real time excerising with your idol.
F120 Product is a single-arm extension constructed in aluminum alloy material with smooth shinning chromed appearance. Nice looking integrated cable management designed provides clean and clutter-free.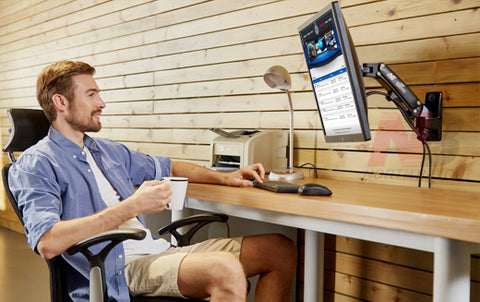 * Built with ergonomic interface to enhance your gaming and viewing experiences * All directions Maximum flexibility allows various users to sit or stand to watch TV comfortably with desired perfect * Fine polished arms without any painting meet the requirement of environment projection. * Hidden cable management conceals the cables below mount neatly. * Gravity designed pivot enables static viewing position. * Polished aluminum with unique recipe & stainless steel made maximum strength & aesthetics.
F120—Gas Spring monitor mount ■ Fits most 17"-27" monitors ■ Support max weight 5.5-15 lbs (2.5-7kg) ■ VESA compliant 75x75, 100x100mm ■ Lift: 6.1"(155mm) ■ Rotation:360° ■ Tilt: +35º to -50º ■ Color: Polished and chromed Aluminium
X