Our F450 mount combines an incredible weight capacity of 17 - 35 lbs with a smooth gas cylinder for effortless height and depth adjustment. Thanks to its double-arm design, the F450 can be extended to reclaim desk space in lieu of a desktop mount, or neatly folded for a low profile.  
The F450 is easily able to accommodate heavy TV/Monitors while retaining flexibility to cover all viewing points. A spring pivot joint allows the screen to tilt effortlessly +8°/-7°, while the lower and middle joints provide swivel range of 180°.
Designed for 40-50" TV's, the F450 provides outstanding articulation and quality wrapped in stylish polished aluminum. Other considerations include a self adjust mechanism to level the TV at any height and integrated cable management for a clean aesthetic look.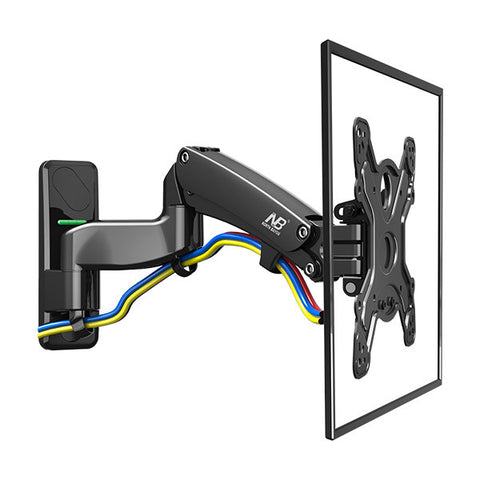 * Full motion flexibility with all direction and effortless adjustment wall mount * Durable gas-strut and conical joints constructed for smooth and stable operation * Built with ecological interface to enhance your gaming and viewing experience * Double-extension, compact and retractable design for limited space * Integrated cable management conceals inside provide clean neat and clutter-free appearance * Strong die cast aluminum alloy construction with fine polish finished appearance give you best aesthetics look
F450—Gas-Strut TV Wall Mount ■ Fits most 40"-50" LED, LCD TVs ■ Support load: 17.6-35.2 lbs (8-16kg) ■ VESA compliant: 100*100, 200*100,200*200,400*200,400*400 mm ■ Upright lift distance: 9.6" (245mm) ■ Rotation: +3°~-3° ■ Tilt angle: +8° to -7° ■ Color: Polished Aluminium appearance, Painted steel.
X