Luxury heavy duty TV Cart GF100
The combination of G200 AV cabinet and CF mobile cart formed our NB GF100 Mobile Work-Station unique product. The productcomes with standard AV Shelf for your accessories and Video tray for your camera make your video conferencing activities convenient .
Our dual luxury heavy-duty anodized aluminum alloy columns to withstand an overall 1 *100'' Screen and vesa from 200 *200mm to 1000*600mm with size range 60-100''falt panel Tv . Adjustable height from 1390mm to 1740mm (54.7" to 68.5") by releasing the security screws and handles at both sides .
Integrated cable management inside columns maintain the appearance of refinement and elegance. panel TV with 4 heavy duty braked castors offered easy mobility or static positions at site.Designed in modular blocks make this stand quick and easy to assemble and dismantle.This luxury unique and attractive mobile display stand GF100 is designed to provide solutions to ease your mobility of entertainment, lecture, meeting and conference , exhibition and education system .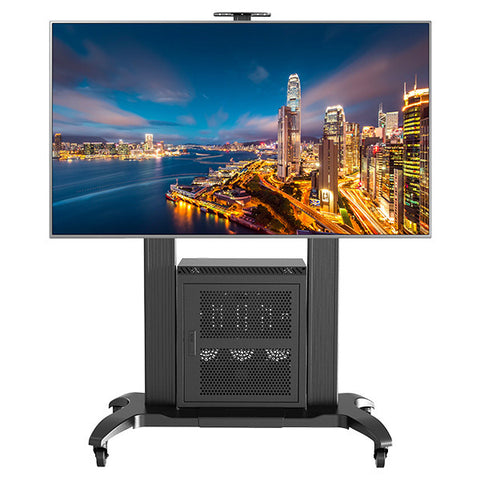 * Smooth anodized dual columns with adjustable flat-panel TV height. * Smooth rolling braked castors for effortless positioning (2 braked casters) * High tensile strength steel and rigid aluminum alloy materials. * Integrated cable management through columns. * Carry maximum load 300lbs(136.4kgs) and up to1*100" flat panel TV (60" to 100") * VESA standard from 200x200 to 1000x600. Fits most large screens in current market. * Flexible and installer-friendly. Easy and convenience. * Perfect space saver.
GF100 ■ Designed for 60"-100" flat panel TV ■ Weight capacity : 300lbs(136.4kgs) ■ AV Shelf max Load: 25lbs (11.4kg ) ■ Video tray max Load : 10lbs ( 4.5kg ) ■ VESA compliance : 200*200mm, 300*300mm, 400*200mm 400*300mm, 400*400mm, 600*400mm, 800*400mm, 800*600mm, 1000*600mm ■ TV Height adjustment: Extension from 1390mm to 1740mm ( 54.7''-68.5'' ) . ■ Color: Black or Silver .
X