Motorized lift-screen heavy duty cart-TW100
This unique nice looking motorized mobile display cart TW100 is designed to provide moveable large screen solutions to ease your mobility of entertainment, lectures, meeting, conference and exhibitions. Fits most 60"-100" LCD or LED flat panel TVs. TW100 is piece of innovative mobile display designed include a high tensile solid steel base, and a dual heavy-duty anodized aluminum alloy columns to withstand an overall 300 lbs (134 kg) load. With installed 4" heavy duty brake castors, you have no problems to maneuvers this piece of equipment to any corners in your workplaces or sites.
What's more, with added 110 or 240 AC auto swap high torque motorized cylinder system integrated with a 24 voltages DC linear actuator, given the stroke of 500mm travelling distance enable you to lift screen right up to 1.8 meter high without harassment, as easy as a kid can do.
TW100 is a modular block designed to shorten your assemble and disassemble time and less problematic during the processes.
TW100 motorized lift-screen cart is highly mobility and space saver. It comes in black or white color.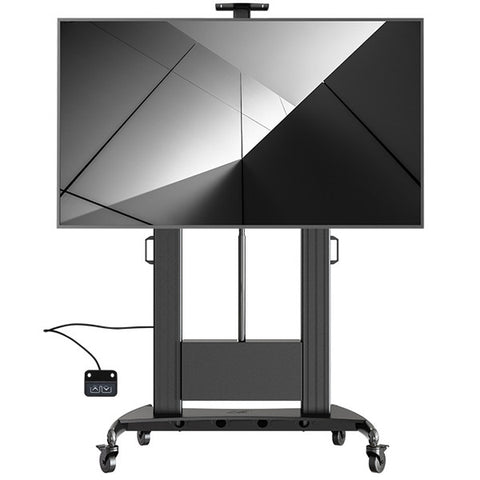 * Motorized lift-screen heavy duty mobile cart * Auto swap 110 or 240 AV adaptor * High torque 24 voltages DC linear actuator with 500mm travelling displacement * Max load 300 lbs (136.4 kg). Fits most 60" to 100" TVs or smart-boards * 4X 4" heavy duty swivelable brake castors for effortless maneuver * VESA compliance 200x200 to 1000x600. Fit more large screens in current maket * Installer and Eco-friendly. * Highly mobility and space saver.
TW100 ■ Designed for 60"-100" flat panel TV ■ Weight capacity : 300lbs(136.4kgs) ■ Tilt angle : 0° ■ VESA compliance : 200*200mm, 300*300mm, 400*200mm 400*300mm, 400*400mm, 600*400mm, 800*400mm, 800*600mm, 1000*600mm ■ TV Height adjustment: 1230mm to 1723mm. ■ Color: Black and White.
X