North Bayou F45 Gas-Struct Table Mount for Extra Large (Up to 40 inch) Monitors
Our most secured and updated table monitor mount up to date.
Features:
* Designed to fits large screen sizes and hold the weight.
* Improve and enhance viewing comfort and reduce taxing at work and home.
* Built in durable gas-strut cylinder to hover at any working position.
* Highly flexible to extend and retract with built in friction pivot to ease viewing.
* Integrated faceplate assembly design with tilt, 360 degrees rotation and swivel.
* Proper cable management conceals under arm provides clean and neat looked.
* Designed in both edge clamped and grommet mounting, simple and easy.
* Best suitable installed in constraint offices and homes for works and entertainment.
Came out of the market in May 2019, F45 is another ergonomics Interactive desk mount product from NB designed caters for large screen size and for sure boost up your productivity.
Die-casted aluminum alloy built in with ultra-precision gas-strut cylinder provides viewer for maximum ergonomic comfort to relieve eye, back and neck strain and reduce less taxing in the workplace and home.
F45 monitor arm offers a new level of flexibility to re-positioning of your display: uplift, slide down, forward and backward range of motion with just a touch.
Fits most 27" to 40" display sizes with a maximum load of 4.4 to 33 lbs (2 – 15 kg),
Display faceplate integrated with tilt and 360 degrees rotation. With the help of friction pivot design, F45 enables you to uplift, swivel, retract and extend up to 27.4" (695 mm) at your wish.
Comes with slim "A" shape design, F45 definitely spares more desk space when you indeed push monitor arm assembly against your wall. Cable management routes cables under the arm reflecting your uniquely clean, neat and tidy workspace.
F45 can be installed onto your desk either by "C" clamps at the desk edge or utilizing your desk grommet opening.
In fact, this dynamic monitor stand is suitable and ideally fits for constraint space at home or offices, improve wellness and maximizing your ergonomic comfort.
Technical Specs:
■ Fits screen sizes from 27" to 40" with load range from 4.4 to 33 lbs (2 – 15 kg) 
■ Upright traveling distance 17.3" (440 mm)
■ 360 degrees swivel, extend and retraction up to 27.4" (695 mm)
■ VESA compliant 75 x 75 to 100 x 100 mm interface, 360 degrees rotation with tilt angles +12 to -12 degrees
■ Powder coated finished in black and white color tone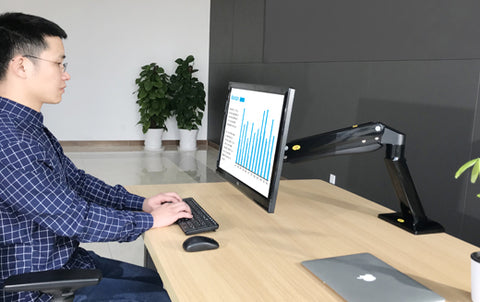 X