Steel TV Mobile Cart-AVA1500-60-1P
Whether you are looking for a large plasma TV stand for your limited living room, or can not find best way to setup your LED, LCD TV or display in meeting room, exhibition room, restaurant, here maybe it is your best selection.
This is the newest modular designed light weight mobile display stand comes in black powder coat gives you a brand new looked with 2 heavy duty poles to give you height adjustment from 1030mm(40.5") to 1530mm (60.2").
This AVA1500-60-1P comes with standard accessories like camera tray and AV accessories shelf. Its unique and convenience TV height adjustment by spring plunges; Cable management designed; Security padlock designed to prevent loss of TV are the most good features and selling points to you and your buyers.
AVA1500-60-1P designed carried up to 100 lbs(45.5kg) or Maximum 70" flat panel screen with 4 heavy duty braked caster wheels installed.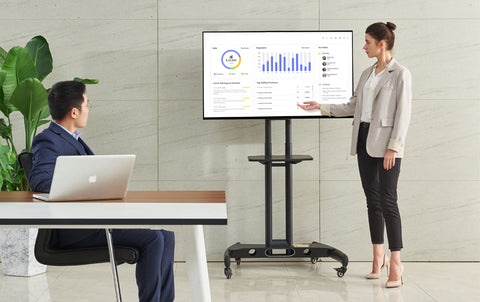 * Heavy-duty dual poles mobile display stand. Black powder coating finished * Achieve maximum height of 1530 mm (60.2") * Smooth rolling casters for effortless positioning (2 locking casters) * Integrated cable management inside pole * Carry maximum load 100lbs(45.5kgs) and flat TV panels (32" to 65") * Comes with standard height-adjustable AV shelf and camera tray. * VESA standard from 100x100 to 600x400. Fit most of the current flat TV panels * Modular design allows fast disassembly for storage or transportation. * Flexible and installer-friendly. Easy and convenience. * Perfect space saver for your limited location. * Ingenious products and its package construction for you to save lots of space and shipping cost. * Completely with wires management system.
AVA1500-60-1P ■ Designed for 32"-65" flat panel TV ■ Weight capacity : 100lbs(45.5kg) ■ VESA compliance : 100*100mm,200*200mm, 400*200mm,400*400mm,600*400mm ■ TV Height adjustment: 1030mm(40.5")~ 1530mm (60.2"). ■ Color: Black powder coating finished
X