TV Mobile Cart-AVF1800-70-1P
Availability
1500 in stock
Whether you are looking for a large plasma TV stand for your limited living room, or can not find best way to setup your LED, LCD TV or display in meeting room, exhibition room, restaurant, here you will find a best selection.This unique nice looking high quality finished mobile display stand AVF1800-70-1P is designed to provide solutions to ease your mobility of entertainment, lecture, meeting and conference and exhibition. This innovative mobile display designed include a rigid and heavy-duty anodized aluminum alloy columns to withstand an overall 2235.2mm (88") screen and maximum 125 lbs(56.8kgs) weight. Also designed with two poles make the stand more stable and safe.
Comes with standard camera tray and accessories AV shelf, AVF1800-70-1P designed with a large and rigid aluminum contour base construction to provide good balance and good support necessary weight to ensure stability; TV height adjustment by releasing screws at both sides; Integrated cable management inside column; Carried up to125 lbs(56.8kgs) and flat panels TV from 55" to 88" with 4 heavy duty braked castors offered easy mobility or static positions at site.
Designed in highly polished with no sharp edges provide a safe moving display unit and avoid endanger accidents to users. What more of the modular blocks designed make this stand quick and easy to assemble and dismantle.
G200 AV cabinet is an optional accessory for AVF1800-70-1P. It can be your mobile work-station or POS after add on.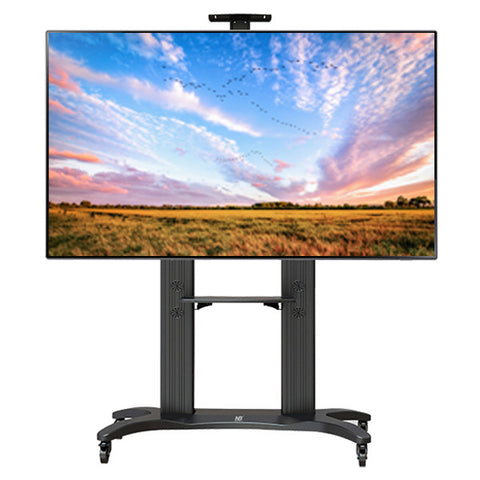 * Smooth silver anodized dual column or powder coat black with adjustable height. * 4 brake castors supplied for smooth, harassment-free and effortless positioning * Highly well polished aluminum alloy contour broad base without sharp edges. * Integrated cable management through columns and base * Carry maximum load 125lbs(56.7kg) and flat panel TV (55" to 80") * VESA standard from 200x200 to 800x400. Fits most flat TV in the current market * Designed in modular form allows quick and harassment-free installation and strip down. * Flexible and installer-friendly. Perfect space saver. * Optional accessory G200 AV cabinet can be purchased separately to be mobile work-station or POS * Compact and strong packing construction to save you storage and shipping costs.
AVF1800-70-1P ■ Designed for 55"-80"flat panel TV ■ Weight capacity : 125lbs(56.8kg) ■ Tilt angle : 0° ■ VESA compliance : 200*200 mm, 400*200 mm, 300*300 mm, 400*400 mm, 600*400 mm, 800*400 mm ■ TV Height adjustment: 1350mm (53")~ 1650mm (65"). ■ Color: Black.
X